The need for reliable home care services has been on the rise, especially in urban areas like Bangalore, where people are leading busy lives, juggling work and family responsibilities. Further, the demand for home care services in Bangalore also rises with the increase in the elderly population and as families want their aging loved ones to receive the best care possible. In this blog, we will discuss how reliable home care service are transforming the lives of people in Bangalore, ensuring they receive compassionate care and support from the comfort of their homes.
The Benefits of Home Care Services
Home care services refer to the specialized care and support provided to elderly or disabled individuals from the comfort of their homes. These services aim to provide the necessary physical, emotional, and medical support required for the individual's well-being and to enhance their quality of life. Listed below are some of the significant benefits of home care services.
The comfort of home: The primary benefit of home care services is the comfort of the home environment. The elderly or disabled individuals feel more comfortable and relaxed in their own homes rather than in a hospital or nursing home. Home care services allow them to remain in the comfort of their homes while receiving the necessary care and support.
Personalized care: Personalized home care services are tailored to the individual's unique needs. The caregivers work closely with the individual and their family members to develop a customized care plan to meet their specific requirements. This personalized care ensures that the individual receives the necessary care and attention required for their well-being.
Independence and dignity: Home care services promote independence and dignity for elderly or disabled individuals. With the assistance of caregivers, they can perform their daily activities, maintain their personal hygiene, and remain socially active. This independence and dignity significantly contribute to their mental and emotional well-being.
Cost-effective: In-home care services Bangalore are often more cost-effective than traditional nursing homes or hospitals. The cost of home care services varies based on the level of care required, but they are generally more affordable than long-term hospital stays.
Better health outcomes: Home care services are associated with better health outcomes, such as lower hospital readmission rates and faster recovery times. The personalized care and attention provided by caregivers help manage chronic conditions and prevent health complications.
Family support: Home care services not only benefit the individual receiving care but also provide support to their family members. Caregivers can offer respite care to family members, allowing them to take a break from caregiving responsibilities and attend to their personal needs.
Companionship: Elderly home care services provide companionship and social interaction for the elderly. Caregivers offer emotional support, engage in meaningful conversations, and participate in activities that the individual enjoys.
With all the benefits listed above, it is clear that home care services offer numerous benefits to elderly or disabled individuals from the comfort of their homes and support tailored to their specific needs. The companionship, independence, and cost-effectiveness of home care services make them an excellent option for those in need of specialized care.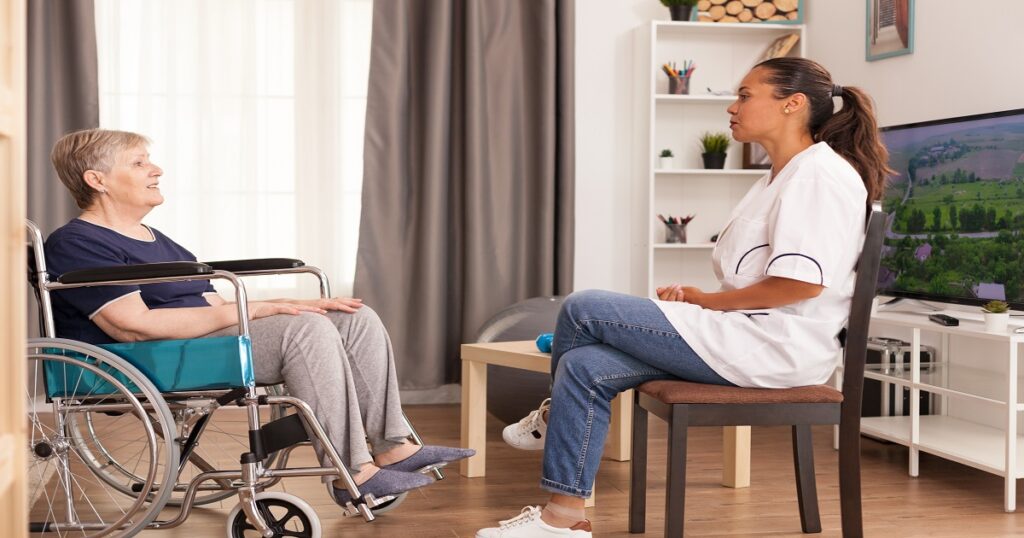 How to Choose the Right Home Care Service
Choosing the right home care service for your loved ones can be overwhelming, as there are many factors to consider. However, making an informed decision is crucial to ensure the safety and well-being of your loved ones. Here are some factors to keep in mind when choosing the right home care service:
Assess your needs: Before selecting a home care service, you need to determine the needs of your loved one. This could include personal care, medication management, meal preparation, or companionship.
Research the available options: Once you know what you're looking for, research the available home care services in your area. Check their websites and online reviews to get an idea of the quality of care they provide.
Check their credentials: Ensure that the home care service you choose is licensed, insured, and has qualified staff members. Check their accreditation and certification to ensure that they meet industry standards.
Consider the cost: Home care services might be expensive, so it's essential to consider the cost when choosing a service. Look for the most affordable home care services and check if the service is covered by insurance, Medicare, or Medicaid, and inquire about any additional costs.
Evaluate their customer service: The quality of customer service provided by a home care service can make a significant difference in your loved one's experience. Choose a service that is responsive and provides clear communication. They should be available to answer any questions you may have and provide updates on your loved one's care.
Choosing the right non-medical home care services can make a significant difference in the quality of life of your loved one. By considering these factors, you can make an informed decision that ensures their safety, well-being, and happiness.
Conclusion
Home care services have become a crucial part of the healthcare system, providing care and support to individuals from the comfort of their homes. With the increasing demand for such services, it is essential to choose a reliable and trustworthy provider who can offer personalized care, professional assistance, and emotional support to your loved ones. Home care services in Bangalore are transforming the lives of many senior citizens, disabled individuals, and those recovering from illnesses or injuries. By opting for these services, you can provide your loved ones with the care they need while also ensuring their independence, dignity, and quality of life.
Frequently Asked Questions
1. How much do home care services cost in Bangalore?
The cost of home care services in Bangalore can vary depending on the type of service required and the duration of care. It is best to consult with home care service providers for specific pricing.
2. What types of services are included in-home care for the disabled in Bangalore?
Home care services for disabled individuals in Bangalore can vary based on the individual's specific needs. However, some common types of services include assistance with daily activities like bathing, grooming, and dressing, meal preparation, medication management, physiotherapy, companionship, and transportation to appointments. Additionally, some home care services also offer specialized dementia care services at home for individuals with this specific medical condition. It's important to discuss the specific needs and preferences with the home care service provider to create a customized care plan.